Welcome to the 36th Gafu-ten
the Largest SHOHIN BONSAI Festival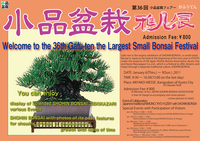 Gafu-ten is the largest exhibition of SHOHIN BONSAI ,i.e.small-sized Bonsai in Japan,to be held at the beginning of the new year in KYOTO under the auspice of All Japan Shohin Bonsai Association ,Kyoto City and Kyoto Newspaper Co.,Ltd.,which is a festival to offer dreams and hopes through a Japanese traditional culture ,SHOHIN BONSAI.
You can enjoy display of splended SHOHIN BONSAI ,SEKIKAZARI.
You can enjoy various Events.
You can enjoy SHOHIN BONSAI with photos of its past features for showing process of development/growth with lapse of time.
You can find and buy good quality of SHOHIN BONSAI ,SAN-YASOU(wild grasses) ,pots ,bonsai-tools ,fertirizers ,etc.in lots of Bonsai shops in the hall.
DATE :January 6th(Thu.)〜9th(Sun.) ,2011TIME :9:30 〜16:30(15:00 on the last day)Place :MIYAKO-MESSE ,Kangyokan of Kyoto City(in Okazaki Park)Admission Fee:¥800
(A Member of ALL JAPAN SHOHIN BONSAI ASSOCIATION is free of charge
to accompany one more person ,i.e.two persons in total.)
Event of Collaboration
Japanese traditional KIMONO ,"KYO-YUZEN" with SHOHIN BONSAI
Special Events with Participation of Visitors
Jan. 6th(Thu.) 13:00〜14:30
Demonstration of creation of pots for SHOHIN BONSAI (free of charge)
Jan. 7th(Fri.) 13:00〜14:30
Demonstration of reforming KUROMATSU(free of charge)
Jan. 8th(Sat.) 11:00〜12:00
Workshop of shohin TOSHO
(participation fee incl. material cost:¥5,000 ,up to 30 persons)
Jan. 9th(Sun.) 11:00〜12:00
Seminar(Lesson) on treatment of a SMALL BONSAI by a pairof family
(free of charge ,up to 15 pairs)
Jan. 6th(Thu.)〜9th(Sun.) 12:00〜12:30
Demonstration on how to display of SHOHIN BONSAI(SEKIKAZARI)